Hey! So as you may know, it's getting chilly, and I have prepared the perfect Triple C outfit for you!
 Forever21: Beaded Purl Knit Beanie $9.80
 Forever21: Sparkling Bow Pearlescent Necklace $12.80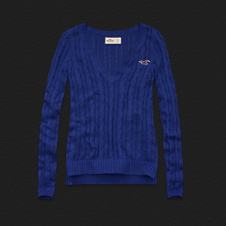 Hollister: Victoria Beach Sweater $39.50
 Hollister: Hollister Jegging $30
 Nordstrom: Ugg Australia 'Bailey Button' Boot $119.95-$159.95
Some of these items might be out of your budget, believe, me, I know. This outfit (and pretty much anything else I post) is just for inspiration – you don't have to buy the real thing! You'll be surprised at what you can find in your closet. 😉 Oh, and there are these Ugg look-alikes that you can get at Costco cheaper. I have a pair, and they are so soft and comfy. If it doesn't make a difference, why buy the more expensive thing? Sure, some people are all about brand names, but the point of fashion is to express yourself – not to be a walking advertisement for Gucci!