I have recently went to Bellevue Square mall and have found one style echoing back in my head: Preppy! But not only is this style sophisticated, but also young and cute. I walked into Kate Spade with my mom (don't go into any expensive store without your parent… the employees get all nervous and shifty)… she loves their handbags, and I must say they are so fresh! They are so cute, but the prices are umm… pricey. So I have created several outfits that imitate this preppy style at a happier cost.
Hello Kitty Cutie
 Forever 21: Purl Knit Beanie    $6.80
 Forever 21 Girls: Hello Kitty Athletic T-Shirt
 Target: Xhiliration Women's Neon Slap Watch $9.99
 Forever21 Girls: Box Pleat Skirt    $12.90
 JC Penney: Colorblock Bow-Detailed Ballet Flats     $16.00
Quirky Prepster
 Forever21: Lacquered Tropical Flowers Necklace    $15.80
 Forever 21 Girls: Houndstooth Cardigan   $19.90
 Forever 21 Girls:  Stretch Fit Skinnies    $16.90
 JC Penney: JCP Sabrina Leather Ballet Flats    $17
 Classic Belle
  Forever 21: Cardigan Pattern Sweater    $16.90
   Forever 21: Studded Pyramid Bracelet Set      $9.80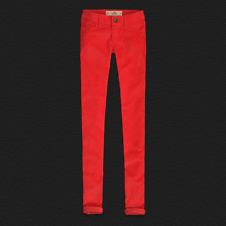 Hollister:  Hollister Jegging    $49.50     (they look more tangerine orange, but since the page is so dark, it is hard to see that)
Nordstrom's: Hunter 'Original Tall' Gloss Rainboot (women)    $80.98   (40% off of original price of $135.00
I hope you guys enjoyed these outfits and make them your own! That's what style is – taking something you like and making it something that shows off who you are. 😉
❤ ❤ ❤ Lulu C.